The Center for Proteomics and Personalized Medicine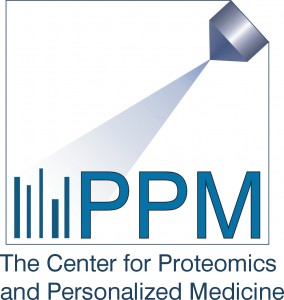 Proteins and associated molecules enabling cell metabolism represent the highest form of gene expression, and in addition they characterize cells and tissues in health and disease. The Center for Proteomics and Personalized Medicine, PPM, located at the University of Tampere, School of Medicine in the Department of Ophthalmology established with a FiDiPro grant from TEKES has as a primary objective the discovery of biomarkers of disease that can be used for diagnosis and response to treatment. PPM will work with all areas of medicine needing proteomic and metabolomic insights into disease processes. Quantified biomarkers are used for in individual patients for personalized medicine as objective aids to diagnosis and to evaluate the response to treatment. The Center has broad proteomics and metabolomic capabilities offering analysis for small and large-scale studies, including clinical trials as well as assistance in experimental design. PPM instrumentation provides rapid throughput and high sensitivity, the Center has quantitative capabilities including iTRAQ for discovery proteomics and SWATH and MRM for absolute quantitation. Center Personnel includes FiDiPro Roger Beuerman, Head; Hannu Uusitalo, Chairman of the Department; Antti Jylhä, Mass Spectrometry Specialist; Saara Lähdekorpi Lab Technician; Ulla Aapola, Center Manager.
Laboratory facilities
PPM has acquired an ABSCIEX Triple-TOF 5600 + mass spectrometer with an Eksigent NanoLC that allows both proteomic and metabolomic analysis of samples.  The LC-MS/MS-TOF performance allows both discovery analysis and rapid profiling as well as high sensitivity quantitative MS/MS suitable for clinical trial needs. The 5600+ triple TOF is equipped with SWATH technology for in depth data independent sample analysis which is important for samples with complex analytes and analytes with large concentration ranges. The Center will provide a wide range of sample analysis and advice in experimental design, particularly in conjunction with clinical trials.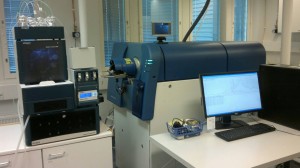 –AB Sciex Triple TOF 5600+ can be used with AB Sciex iTRAQ reagents to perform identification and quantitation in a single run for over 2000 proteins.
– Ekspert NanoLC 425 (Eksigent), flow range 10-1000nl/min, can be used with exigent cHiPLC column system or separate column system
– Agilent 1100 HPLC-UV system with fraction collector is used for sample preparation for complex samples (tissue). HPLC can also be joined to Triple TOF in order to perform metabolomics analyses with higher flow rate (10-2000µl/min).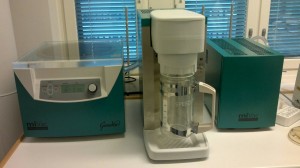 – miVac centrifugal concentrator (Genevac) is capable of removing water and organic solvents from 1.5-2.0 ml tube samples.  miVac modular concentrator contains Duo concentrator with 84 x 1.5ml tube aluminium rotor, Quattro vacuum pump (2mbar) and SpeedTrap frost-free cold trap condenser
– Eppendorf ThermoMixer Comfort with Thermoblock for 24 x 1.5 ml tubes. Thermomixer comfort allows simultaneous mixing and temperature control (range: 13⁰C below RT – 99⁰C).